DiCAPac Waterproof Case in Action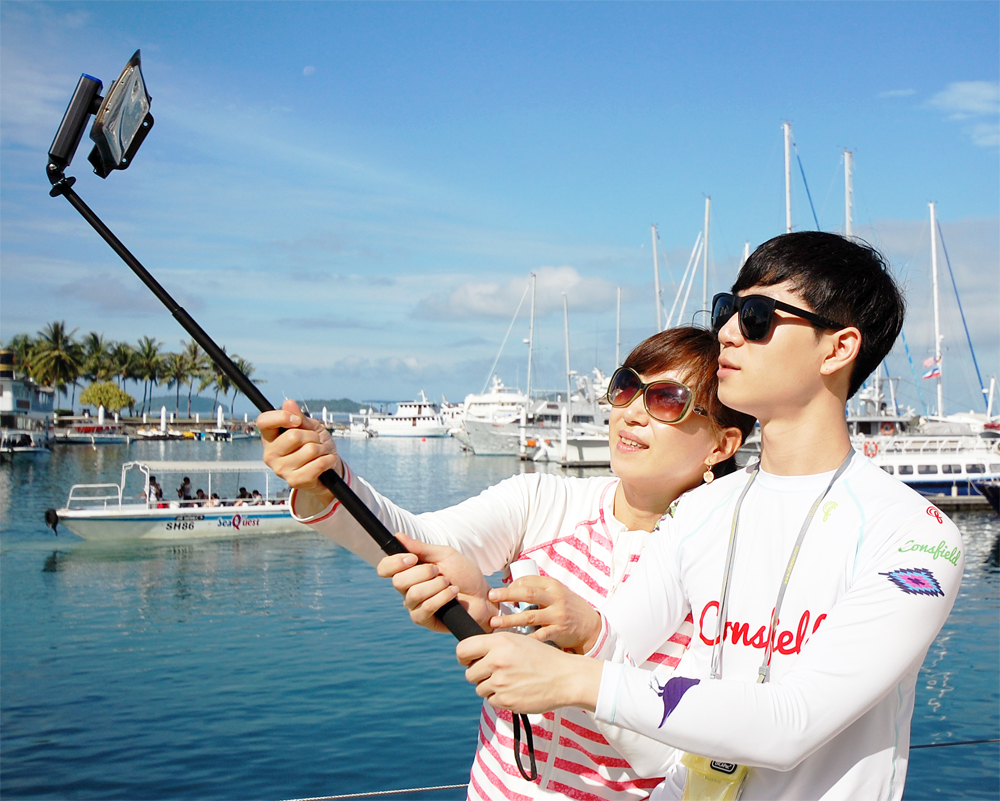 World No. 1 waterproof case to protect your digital camera, iPhone, iPad, Smart Phones, etc from water, sand, snow, dust…….
Waterproof underwater housing usable up to 33ft (10m), JIS(Japanese Industrial Standard) IPX8 / IP68 the highest class.
Now, let your smart devices free around water while you are swimming pool, at the beach, it rains. You deserve touch, talk, listen without worries.
The most benefit is that you get clear photos via the polycarbonate surface of the case.
All purposes Dustproof, Fogproof, Sandproof, Snowproof, Waterproof case for smart devices.
Locate a DiCAPac waterproof case Store that near You
Can you use your existing digital camera, iPhone, iPad, Galaxy Note to do underwater photography?
Yes, you can protect your digital camera, iPhone, iPad, Galaxy Note with DiCAPac waterproof case.
Now, we do have a waterproof case design for Junior (WP-c10i) and Sports (WP-C25i).
In 2015, DiCAPac waterproof case have upgraded and launched the "DiCAPac Action".
DiCAPac Action can upgraded your smartphone to an Action Cam like GoPro. In Korea, the word "Action" can be understood like action cam.
DiCAPac Acton come with it's unique mounted system.  The mounting system consists of a clip, a floating selfie stick, a bike mount, a yacht mount and an armband.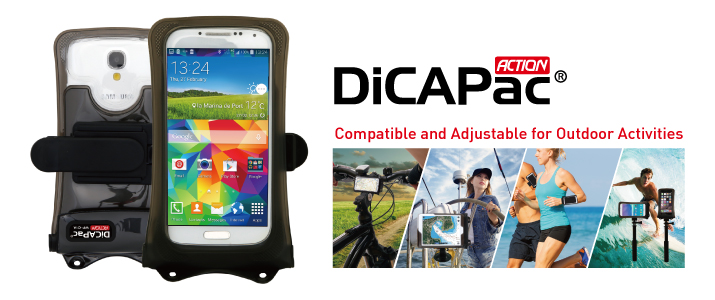 Is there other ways? 
Simple and Affordable?
Yes, there are a few simple solutions.
You can use a zip-lock bag or plastic bag to protect your camera –
but there are NO guaranteed and MAY NOT tested to 100% waterproof.

You can use design waterproof case for your camera –
but you must take note that whether the waterproof case when through JIS (Japan Industrial Standards) waterproof tested to 8 grades.
Why we select DiCAPac waterproof case?
We select DiCAPac waterproof case. DiCAPac waterproof case is one of the market leader in the waterproof case for compact camera, in super transparent vinyl waterproof case, UV coated optical lens.  You will be really amazed that you can take underwater pictures with the same effectiveness and quality as of any high-end and expensive underwater camera housing. 100% waterproof case.  DiCAPac also provide great waterproof case to protect your electronic gadgets from water, rain, sand, dust, snow, etc.
DICAPac waterproof case is a word combining Dica and Pac (pack), is a product of DICAPac Inc. , which first seeks the safety of digital equipment. It is a product of the global brand which exports to more than 35 countries (including Singapore, Malaysia, Thailand, Philippines, Indonesia, Brunei, etc) and manufactures in Korea.
DICAPac has products for various digital electronic equipment.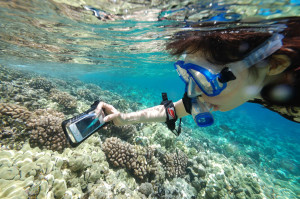 Happy customers that use DiCAPac waterproof case,
The DiCAPac waterproof case I got from you recently works like a wonder. I think it is a great product. The shots taken are beautiful. We have put some of the underwater photos on our blog and facebook. If it helps, you can link there for your customers to see. Waterproof Case Blog
Tian Shek, Singapore, 1st Nov 2008
Experience user…..
There is one thing that I do each time I put my camera in the DiCAPac waterproof case, I put silica gel, this is to prevent condensation in the camera, learned the trick from some forumers, and my camera works like wonder, and true enuf, end of the day, the silica gel does change col!
Hongli, Singapore, 7th Nov 2008
Holiday adventurer …..
I made the order of DiCAPac waterproof case on 14th July 2010 and received the DiCAPac waterproof case on 16th July 2010! You can view the underwater photography at waterproof case Singapore blog
Ronald Tan, Singapore, 12th Aug 2010
Based on DiCAPac patented technology, we successfully sense DiCAPac's products to apply for "Anytime, Anyplace" and under any circumstances.  The DiCAPac waterproof case not only fully guarantee the effectiveness of underwater photography, but also its water & duct proof and general protection.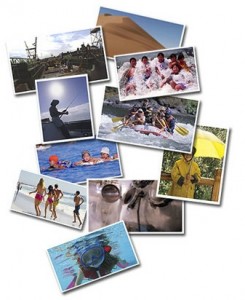 What are the advantage features of DiCAPac waterproof case?
DiCA

P

ac Guaranteed underwater performance
for up to 15ft/33 ft (5m/10m) depth.
DiCA

P

ac with UV coated polycarbonate lens
allow consumers to take clear pictures.
DiCA

P

ac with more transparent and flexible case
for convenient camera control.
DiCA

P

ac Reliable closing system
with waterproof zipper and Roll & Double Velcro.
DiCA

P

ac meet JIS (Japan Industrial Standards)
waterproof test 8 grades.
DiCA

P

ac go through individual quality check up,
100% waterproof check.
Select the Right DiCAPac Waterproof Case for Your Camera
DiCAPac FACEBOOK Page Posting
[fts_facebook id=dicapacwaterproofcase posts_displayed=page_only type=page]