DiCAPac Waterproof Case met standard requirement for Japan JIS IPX8
All of DICAPac's products have passed Japan's rigorous JIS IPX8 test and are all waterproof products of grade 8 (the highest grade).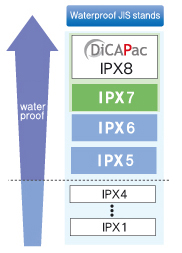 JIS stands for Japan Industrial Standard, an industrial standard system.
Grade 1: protected against dripping water for 10 min at 200mm
Grade 2: protected against dripping water when tilted up to 15 degrees for 10 min at 200mm
Grade 3: protected against spraying water for 10 min at 200mm
Grade 4: protected against splashing water for 10 min at 300-600mm
Grade 5: protected against water jets for 3 min at 3m
Grade 6: protected against heavy seas for 30 min at 3m
Grade 7: protected against the effects of immersion for 30 min
Grade 8: protected against submersion
DiCAPac Waterproof Case Waterproof Testing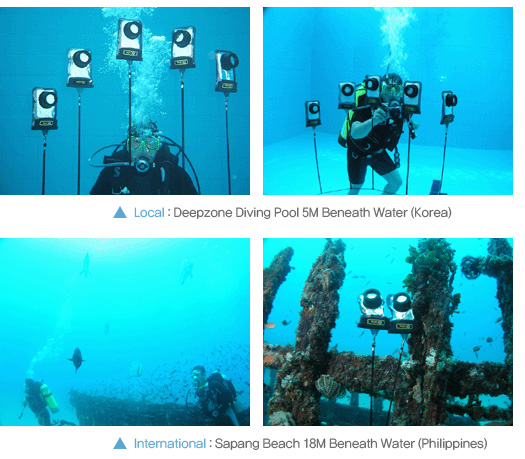 Waterproof Simulation Test
Local : Deepzone Diving Pool 5M Beneath Water (Korea)>> Success!
International : Sapang Beach 18M Beneath Water (Philippines) >> Success!!
The said test was conducted by experts under a proper circumstance.
In general use, some differences could be appeared due to handling methodand camera-shot environment. The product is applicable for digital cameraprotection from water, snow, rain, sand and dust in daily life, nevertheless it also could be used at the swimming beach & pool, such comparable ordinary underwater photographing condition. In this aspect, We also recommend profesional photographer to choose from the special underwater camera equipment(Housing Facility).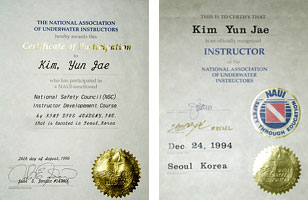 How the camera waterproof housing could be such economic cost and easy-handling for water free.
The test result from Diving pool and Sapang Beach, certified the DiCAPac, an absolutely perfect performance for waterproof.
The superiority performance of DiCAPac is ensured by waterproof test for 2 times.
Within the 10M depth underwater, both Camera Button Operating and Photographing are convenient, as well as easily to acquire excellent underwater pictures.
About over 10M, as the reason for high water pressure applying to the Camera case, It's common to feel some difficulties for button manual, however the waterproof result is guaranteed to be perfect.
The super transparent vinyl case and the optical lens are in a just matching, it is really amazing that same picture effectiveness could be acquired from DiCAPac compared with those high-end and expensive camera housing facilities.
DiCAPac series products are suitable for almost all the Digital Camera of the domestic circulation model , it's also attractive products for either general consumers or even some divers.
Obviously the surface of vinyl pack is easy to be scratched sharp stuff, or to be torn. It is important to inspect the surface quality timely before using, nevertheless it to be very useful at any time, such as summer season entertainment and prevent from water in the raining day.
Every time test the waterproof condition by inserting tissue before underwater photographing is recommended. And User should pay certain attention not to let the surface to be scratched. If so, Dicapac ensure you a total satisfactory when using our products.
The summer Season is approaching, Dicapac would like to share with you every typical pleasure from caring your camera and enjoying that magic underwater photographing. Here We are….. DiCAPac
Instructor : Mr. Kim, Yoon-Jae